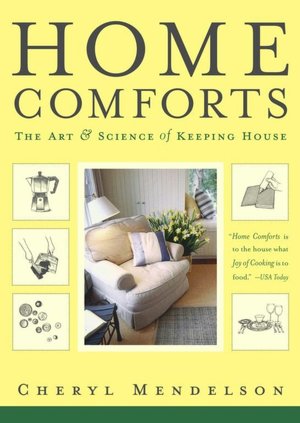 I considered starting here with a little philosophical musing about housekeeping--I do, after all, specialize in domestic fiction and wrote my master's thesis on a novel called
Recollections of a Housekeeper
. But, if you indicate that you are interested in housekeeping, people often suppose that you are very strange (I may be) and have a freakishly clean house (I don't). So, I will dispense with (most of) the musing and get to the basics. Most people do some housekeeping. I am generally interested in
how
people do it. I think those manuals and descriptions from the 19th century on housekeeping practices (or domestic economy, as it was sometimes called) are fascinating.
My favorite modern-day housekeeping tome is Cheryl Mendelson's
Home Comforts: The Art and Science of Keeping House
(Scriber, 1999). The book is a wonderful reference guide, nearly 900 pages long with answers for nearly every conceivable quandary on laundering, polishing, laying out, and making up that you could imagine. My favorite chapter is the first, in which Mendelson writes of her "secret life." She writes, "An off-and-on lawyer and professor in public, in private I launder and clean, cook from the hip, and devote serious time and energy to a domestic routine not so different from the one that defined my grandmothers as 'housewives'" (3). She goes on to describe those grandmothers, one of Italian ancestry and the other of British Isles descent who are equal in their passion for domestic arts, though they often conflicted on ideas of airing beds or ironing shirts. Ultimately, housekeeping seems to be part of identity--how we do things tells us something about who we are and where we come from; but the purpose is unifying--we all seem to clean house because we enjoy having a comfortable, welcoming space in which to live.
So domestic routines both create comfort, and to some (myself included) are comforting in themselves. When I was younger, I learned the nineteenth-century housekeeping litany from Laura Ingalls Wilder's
Little House
books: Wash on Monday, Iron on Tuesday, Mend on Wednesday, Churn on Thursday, Clean on Friday, Bake on Saturday, Rest on Sunday. While some of these activities are obsolete (or have become hobbies, rather than chores), the idea of having a list of daily tasks makes sense. I have tried the other method--clean when it gets dirty--but have found it to be far more exhausting than a pre-emptive routine. After much experimentation, this is now my weekly routine:
Monday: Clean the Kitchen, Buy Groceries
Tuesday: Laundry (Clothes)
Wednesday: Dust and Vacuum
Thursday: Laundry (Sheets and Towels)
Friday: Clean Bathrooms, Buy Groceries
These activities are, of course, supplements to the daily "neatening" tasks of putting away items and making beds and so on. This list is specific to my needs, as it's just my husband and myself in a small apartment. I put the lighter tasks (laundry) on Tuesdays and Thursdays because those are usually teaching days for me. My very least favorite task is planning meals--for some reason, my brain freezes up and I look with dread at the refrigerator and drag my feet on the way to the grocery store. It has become somewhat easier since I go to the store twice a week now. Instead of having to plan seven meals, I plan meals for Monday through Thursday, and then Friday through Sunday.
I don't always get through the week perfectly, but it is easy enough to catch up and Saturday morning is a good time to pick up any tasks that were missed during the week, but your whole day isn't spent in drudgery.
So, what are your domestic routines? Any tips on making meal planning less painful? Any thoughts on housekeeping as identity?