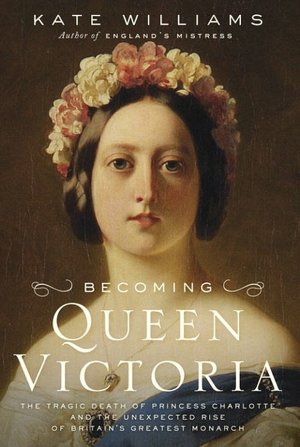 I have not one but two books to review today. The first is
Becoming Queen Victoria: The Tragic Death of Princess Charlotte and the Unexpected Rise of Britain's Greatest Monarch
by Kate Williams (Ballantine Books), which is an extremely long title. I read this on my Nook, and I started it last summer and read it off and on, finishing a couple of months ago. It is, as you may have guessed, a biography of Queen Victoria. I was somewhat ashamed that I am a Victorianist, but had never read a biography, so this was my first. I found it to be quite good. As the title suggests, a good deal of the book is given to discussing Victoria's predecessors, beginning with George III, who finds himself the grandfather to 56 illegitimate children, fathered by his reprobate sons, and only one potential heir--Charlotte, the daughter of the Prince of Wales. The first half of the book is devoted to her story, and the text makes clear that had she not died young in childbirth, Victoria herself might never have been born--the demise of the only legitimate heir to the throne left those reprobate sons scrambling to reproduce with their lawful wives.
The biography is interesting, filled with salacious details and honestly, at times, appalling portraits of the nineteenth-century monarchy. It abounds with cruelty, bad feeling, and very little family warmth. Even Victoria herself is denuded of her rosy glow, and painted as somewhat shallow and power-hungry and Albert is a bit of a self-aggrandizing martyr. Although it matched with most of the details of the fairly recent film,
The Young Victoria
, the movie-version is certainly prettier than the biography version.
Recommended if you like historical detail, famous family drama, and seeing near-mythic figures made human.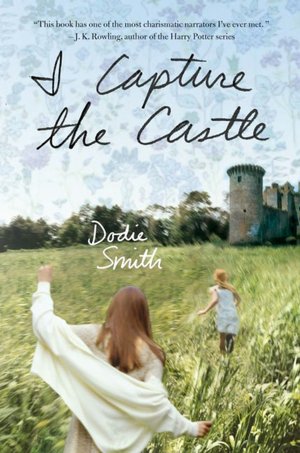 The second book I have finished recently is Dodie Smith's
I Capture the Castle
. This is a title that I had heard of before in a very vague way, but had absolutely no idea what the book was about. I saw it on the shelf at our local used book store and noticed a blurb of praise by J.K. Rowling on the cover. I read the description on the back and then the first lines and was hooked. The novel was originally published in 1948, but is set in the mid 1930s, and is written as the diary of aspiring seventeen-year-old writer Cassandra Morton, who lives with her siblings, eccentric once-famous-writer father, and proto-hippie artist's model step-mother in a ramshackle old castle in "not-so-genteel poverty." Cassandra's diary is intended for her to practice the art of writing, as she wishes to "capture" characters and settings, so she tries out her talents on her family and home. In the meantime she tells the story of her coming of age, figuring out family and love and all of that. Rowling's blurb of praise was for Cassandra as narrator ,and I have to agree--let me just give you a bit from the first paragraph:
"I write this sitting in the kitchen sink. That is, my feet are in it; the rest of me is on the draining-board, which I have padded with our dog's blanket and the tea-cosy. I can't say that I am really comfortable, and there is a depressing smell of carbolic soap, but this is the only part of the kitchen where there is any daylight left. And I have found that sitting in a place where you never sat before can be inspiring--I wrote my very best poem while sitting on the hen-house."
The book is both funny and sad and beautiful. I have some issues with the resolution, but truly, I loved it.
Recommended if you like coming of age stories, writing about writing, vintage British-isms, oblique references to the Modernist movement of the early 20th century.
I will be writing a review soon of Margot Livesey's new novel,
The Flight of Gemma Hardy
, which is a retelling of
Jane Eyre
set in the 1950s and 60s in Scotland and Iceland. I considered adding it on here, but wanted room to do a more extensive review.
Right now, I am a bit between books. I have two that I picked up used: Wayne Caldwell's
Cataloochee
, which is a multi-generational saga set in the Cataloochee valley near Asheville, NC, a place I have visited many times; and Diana Setterfield's
The Thirteenth Tale
, but I haven't a strong idea of the story--just something about England and Gothic and old books. But, yesterday a friend forcefully recommended George R.R. Martin's
Song of Fire and Ice
series (a.k.a the
Game of Thrones
series), claiming that he likes them even better than Tolkien, which is utterly unthinkable to me. I haven't quite decided what kind of reading mood I am in, so I don't know what I will read first.
Let me know if you have read any of the books mentioned and what you think of them!